.

Can a video that captures viewers attention and hooks them emotionally also build your list? The answer was a resounding YES! When you craft the video campaign to raise a pressing need in the lives of your viewers. And then answer that need with your opt-in freebie.
This cute, animated, 4-minute video profiled a family of entrepreneurial cows. Whose lives and challenges (and this is KEY!) closely paralleled those of my prospects! Any wonder that when audio info products solve their financial problems (Moo!), scores of prospects signed up for a detailed report that revealed how it could also solve theirs!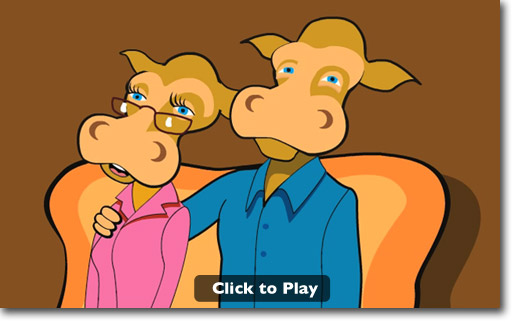 Success Triggers:
Humor
Emotion
Pre-existing desire
Instinctive reflexive response
Direct link between the pre-existing desire and the opt-in freebie
Takeaway:
This campaign ended up doubling my list within the first few months after release.
Your videos are ALWAYS about your prospects, their dreams, their challenges. Never about you. (Even when they are about you, you ONLY talk about yourself so you can put the the biggest issues your prospects are facing, and the most profound outcomes they desire front and center). The more your prospects realize your video is about their lives and their dreams, the bigger the response.