Its true: a GREAT marketing angle creates buzz and sales ... sometimes for years! This video, for the launch of Michael Port's original "Book Yourself Solid" Amazon campaign, continues to add subscribers and build his list.
Over five years after its release.
Better yet, it helped keep Book Yourself Solid at the top of Amazon's best seller charts for weeks. When most Amazon best-seller campaigns peak on launch day and then fizzle badly.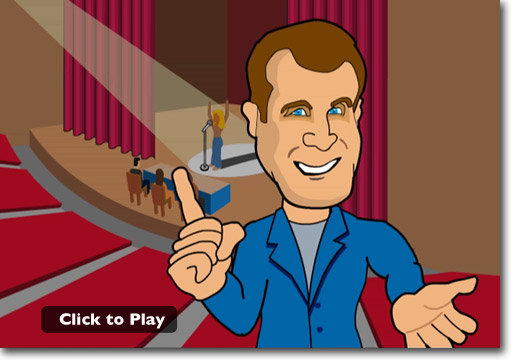 Michael himself says, "The viral video Rob created for us -- called Entrepreneur Idol – helped Book Yourself Solid remain one of the bestselling marketing books in the country since it's release in 2006. So, you can understand why I'm a big fan of Rob." (Aw shucks! Thanks Michael.)
We figured American Idol was a safe bet to for this animated spoof because the show was so popular. And wouldn't be going off the air for a long time. (We were right). Also, if you have ever sweated over having to tell a total stranger exactly what you do (in 30 seconds or less), it feels like ... well ... what it must be like to sing for Simon!
Success Triggers:
Humor
Novelty / Surprise
Celebrity / Pop Culture References
Takeaway:
FIRST: It pays to have a great product that will be around for years.
NEXT: Invest in a great marketing angle that will appeal to your prospects for years, and it will continue to work for you. And build your list. For years.
Evergreen Product + Powerful Evergreen Marketing Angles =
A Perpetual Profit Funnel